We have simply 100's of Needle Plates & Feed Dogs to fit all common Industrial Sewing Machines in use today.
This is just a selection of our most popular feed & plate combinations.
Please call, we can help you.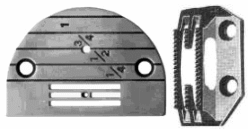 SINGER 52032 Plate & 52032 Feed Dog


SINGER 20160 Plate & 20159 Feed Dog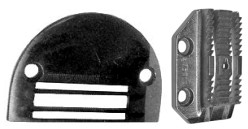 SINGER 530527 Plate & 275010 Feed

Files
BROTHER Needle Feed Plates & Feeds
(for DB2-B790 DB2-B791 DB2-B721 etc)
BROTHER Lockstitch Feeds & Plates
(for DB2-B755 DB2-B715 DB2-B735
DB2-B736 DB2-B737 DB2-B760 etc and
all other BROTHER Plain Lockstitch)
Singer 29K71 Needle Plate 82234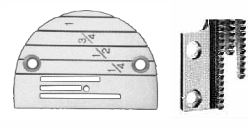 SINGER 12432 Plate & 12481 Feed Dog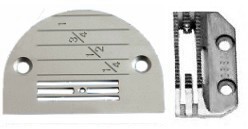 SINGER 147150 Plate & 149057 Feed Dog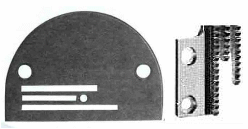 150492-001 Long Throw Needle Plate
(BROTHER DB2-B797 & HIGHLEAD GC0318)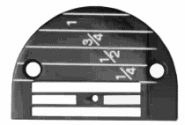 SINGER 143169 Needle Plate
Use Feed Dog 149165
NEEDLE PLATE SCREWS
SINGER 691
BROTHER 100032-001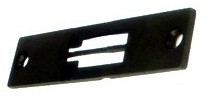 TWIN NEEDLE Needle Plates PLEASE CALL

Needle Plates & Feed Dogs are designed as a matching pair. Therefore we recommend when replacing one item, that you also replace the other too. Good quality feed parts give increased quality and consistency in the sewn product.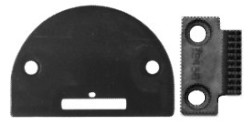 12438 Plate & 12436 Feed Dog
(used with Roller Presser Foot)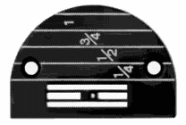 142061 Needle Plate
Use Feed Dog 149057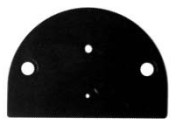 12422 Blank Needle Plate
(used for Darning Operations)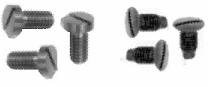 FEED DOG SCREWS
SINGER 208
BROTHER 100080-001
We Stock Needle Plates For: BROTHER CONSEW HIGHLEAD JUKI MITSUBISHI JANOME TOYOTA SUNSTAR PROTEX
PFAFF SEIKO SINGER ZOJE YAMATA TYPICAL and all other leading makes
We Stock Feed Dogs For: BROTHER CONSEW HIGHLEAD JUKI MITSUBISHI JANOME TOYOTA SUNSTAR PROTEX
PFAFF SEIKO SINGER ZOJE YAMATA TYPICAL and all other leading makes