88, Rice Lane
LIVERPOOL
L9 1DD UK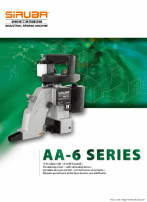 SIRUBA AA-6 BROCHURE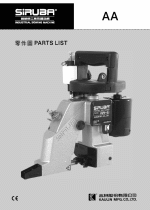 SIRUBA AA-6 PARTS LIST
Popular PARTS For
SIRUBA AA-6
A101D Needle Bar Cover
A102 Looper Cover
A113F Tension Stud
A115D Tension Spring
A116D Tension Nut
A301R Looper Holder
A303R Looper Shaft
A308 Cam Follower
A310R Looper Drive Cam
A404 Presser Bar
A408D Footlift Lever
A502 Needle Clamp
A600R Main Shaft
A700 Knife Driver
A804 Thread Pin
A805 Nut For A804
A815D Thread Stand
A963 Knife Cover
GA109E Thread Guide
GA909 Mains Lead
GA806 Machine Switch
GKG07 Tension Disc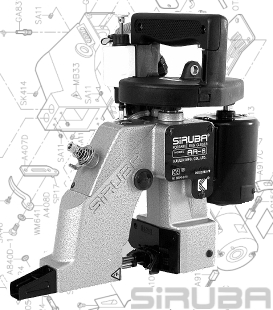 SIRUBA AA-6 Portable Bagstitcher Replacement Parts, Repair, Service & Product Support. Liverpool UK.
We Import & Distribute the SIRUBA AA-6 Bag Stitcher and hold stock of 100% Genuine Manufacturer's Original Replacement Parts.
So give us a call and get your parts tomorrow. We hold 400,000 parts for immediate despatch in our warehouse.
This is just a selection of our most popular parts. So, if you cannot see your part or are unsure what you need, take a look in the Parts List or please call and we'll be delighted to help.
The SIRUBA AA-6 Sackstitcher closes Paper, Jute, Hessian and PVC bags and sacks quickly & easily. High operating speed. Machine is equipped with thread trimming knives to cut the chain at the end of every closure. Automatic lubrication to prolong component and machine life. Very competitively priced making for a cost effective solution to your bag and sack closing requirement.

A210 Needle Plate


A203 Feed Dog

A400 Presser Foot

A300 Looper

A301R-E
LOOPER HOLDER

A702 Moving Knife

A703 Fixed Knife

A704 KNIFE
SPRING

A801D-T Handle


GA806
SWITCH

A500 Needle Bar

A501 Needle Clamp Nut

SA20
COVER SCREW

A700 KNIFE DRIVER BRACKET

KG07 TENSION DISC

A113 = A113F
TENSION STUD

A116 TENSION
ADJUSTER NUT

D5 Needle

A115D - A115R
TENSION SPRING

SA27 NEEDLE PLATE SCREW

A915C
CARBON BRUSH

A310R-E LOOPER
DRIVE CAM

A304 = A304S-E
LOOPER SHAFT COLLAR

A805 THREAD BAR
CLAMP NUT

A815 = A815D
THREAD STAND

A101R
END COVER

A102
LOOPER COVER

A901-C
MOTOR FRAME

A510 SPRING PLATE

A607R BALL JOINT
NA05 NUT

A605-A CONN. ROD ECCENTRIC

GA119F - A Cover

A945 Thread

SA07 FIXED
KNIFE SCREW

SA08 MOVING
KNIFE SCREW

A902 Pulley

SA03 LOOPER &
DRIVE PULLEY SCREW

A808 MAINS LEAD

A947 HANGING
HOOK


A962 Spring Balance



A909 Drive Belt

MOTORS For SIRUBA AA-6

GA900E-37 = 240v
GA900E-38 = 110v
GA900E-40 = 12v

SCREWS For SIRUBA AA-6

SA03 Drive Pulley Screw
SA07 Fixed Knife Screw
SA08 Moving Knife Screw
SA17 Thread Stand screw
SA20 Cover Screw
SA21 Cover Screw
SA22 Feed Dog Screw
SA26 N/Bar Clamp Screw
SA27 Needle Plate Screw


This is just a selection of our best selling Parts for the SIRUBA AA-6 and AA-2 Bag Closers. In stock we have every part for these Sack Stitchers for despatch TODAY. All SIRUBA AA6 & AA2 Replacement Parts are Manufacturers Originals
Need Help or Advice? Unsure of exactly what you need? Or can't see your parts here? Please Call one of our Engineers who will be delighted to help.

© Ian P.Sissons 2012