DA2-B Rotary Hook Full Gib
For 95K Small Shaft Machines


52307 Needle Clamp

88, Rice Lane
LIVERPOOL
L9 1DD UK
© Ian P.Sissons 2009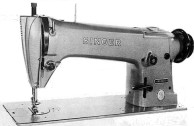 SINGER 95K - 96K -195K -196K Replacement Parts also for BROTHER DB2-B760
The Singer 96K is a medium speed single needle lockstitch machine. Very popular from the middle of the 1900's with garment factories, tailors, alteration shops and just about anywhere a sewing machine was required. Multiple variants were manufactured, so when requesting parts, it would help us if you have the EXACT model no. from the plate on the front of the machine.

DA1-A Rotary Hook 52237 Bobbincase 40264 Steel Bobbin 52032LG Needle Plate 12482LG Needle Plate


SINGER 95K 195K 96K & 196K
Popular Parts
190 Presser Foot Screw
208 Feed Dog Screw
691 Needle Plate Screw
12432 Slide Plate
270010 Bobbin (with Holes)


Popular Presser Feet
31358HW Cording Foot - Wide
120828H Shirring Gathering Foot
L36069H-1/4 Piping Foot
40322SH Zip Foot

PRESSER FOOT Page is HERE


52092 Tension Assembly 52082 Check Spring 12481 Feed Dog 52031 Feed Dog 24983 Presser Foot


Service Kits are HERE. Kits include 6 Bobbins, Bobbincase, Presser Foot, Needle Plate, Feed Dog, Check Spring & New Screws

Need Help or Advice? Please Feel Free To Call or e-mail any enquiries. This is just a selection of Parts available for this machine. If you cannot see exactly what you need, Please Call One of Our Engineers who will be delighted to help.